The framers have to cut all the bottom and top plates on the 2x6 exterior curved walls from 2x10's.  They're doing it with a circular saw as they would ripping any framing lumber.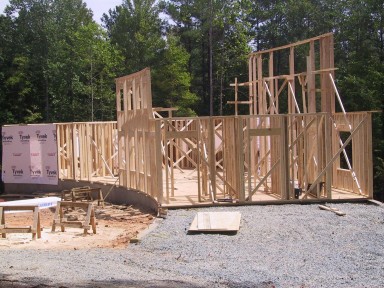 There are structural steel components that are carrying the weight of an elevated walkway as well as a floor system above the carport.  The wall sheathing (7/16" OSB) bends to the curve.
Framing of the screened porch began this week, too.
In short, this is a challenge to build and we all understand it adds approximately 30% to the job costs. Installing drywall, trim, cabinetry, flooring – all have to be thought through due to the special requirements of the curved walls.  This is a dramatic house unlike any we've done before and we're looking forward to sharing the process with you.
To read more about this post click here!